Here is our 2023 Holiday Gift Ideas for Babies, Infants, and Newborns. There's no question babies are the easiest to buy for because you know the recipients will love just about anything you buy! But there are so many choices which can make your shopping a little challenging. While there are still many toys out there that are as popular today as they were years ago, the times have definitely changed.  Happy shopping, and let us know what you're buying for this age group – leave a comment below!
A Holiday Gift Guide for Babies
If there is one recipient who can go easy on your holiday budget, it's a baby. Chances are good they'll be just as happy with a $5 rattle or teething ring as they would a $50 Montessori toy. So, my suggestion is even though this post is full of fun and loveable toys, you can take this opportunity to purchase nursery decor, keepsake boxes, clothes, gear, and other items that make Mom and Dad happy since they won't remember it and likely can't even open their own present.
Holiday Gift Ideas for 0-3 months
During these initial months, babies are primarily focused on exploring their senses and developing their motor skills. Opt for soft, cuddly toys like stuffed animals, rattles, and teething rings. Consider a high-contrast play mat or a musical mobile to stimulate their vision and hearing.
Lovevery The Looker Play Kit Ages 0 – 3 months
Similar Individual Items
Folding Black and White Cards
Wooden Book
Baby Flashcards
Silicone Teether
Links
Teething Mittens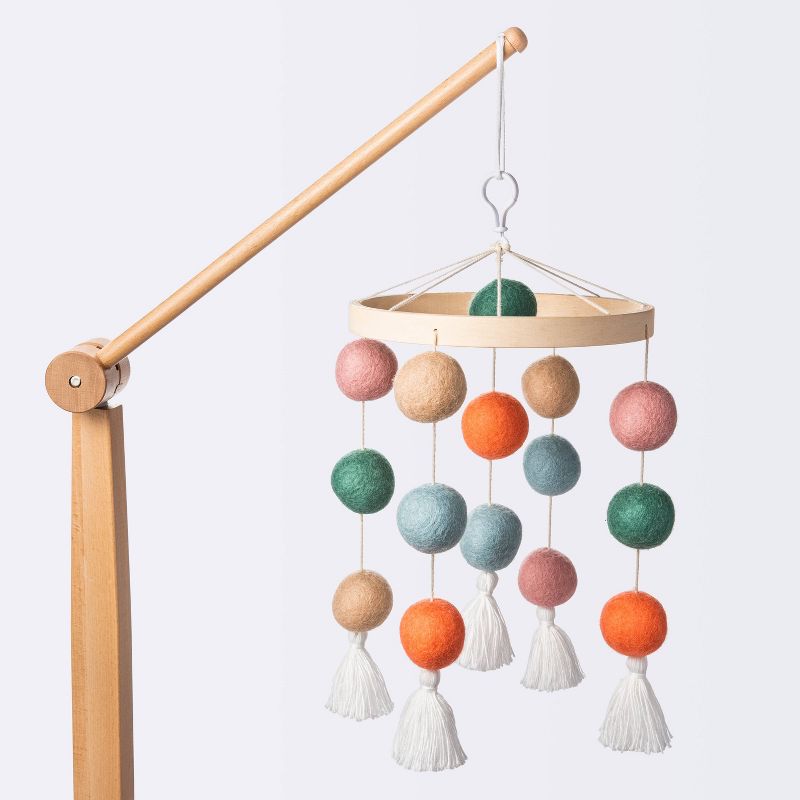 As You Grow: A Modern Memory Book for Baby
Holiday Gift
Ideas
for 3-4 months
As your baby's coordination improves, introduce toys that encourage hand-eye coordination and grasping. Stacking rings, balls, and crinkle books are excellent choices. A portable play gym with dangling toys can provide entertainment.
Lovevery The Charmer Play Kit Ages 3-4 Months
Similar Individual Items
Cloth Book
Wooden Rattle Set
Teething Blanket
Crinkle Toy
Framed Mirror

Holiday Gift
Ideas
for 5-6 months
Babies at this stage are becoming more curious about their surroundings and senses. Introduce toys that make sounds, such as activity cubes or push-and-pull toys. Consider a baby bouncer or swing to provide soothing movement and comfort.
Lovevery The Senser Play Kit Ages 5-6 months
Similar Individual Items
Sensory Ball
Wooden Spiner
Baby Infant Rattle Socks Toys
Wobble Toy
Tissue Toy
Silicone Feeders – Work great with ice in them for teething pain too!
Holiday Gift Guide for 7-8 months
Your baby is now on the move, either by crawling or scooting. Encourage their exploration with toys that promote movement, such as crawl toys, shape sorters, and activity tables. A lightweight stroller can facilitate outings and adventures.
Lovevery The Inspector Play Kit Ages 7-8 months
Similar Individual Items
Wooden Ball Drop
My First Signs Book
Sensory Flashcards
Jumbo Knob Wooden Puzzles Set
Stacking Cups
Texture Ball Set
Training Cup
See, Touch, Feel: A First Sensory Book
Summer Little Heartbeat Soother
Holiday Gift Guide for 9-10 months
Babies at this age are eager to engage in cause-and-effect activities. Introduce toys that respond to their actions, such as stacking blocks, musical toys, and shape sorters. Consider a board book set to foster a love for reading.
Lovevery The Explorer Playkit 9-10 months
Similar Items Individual
Wooden Egg and Cup Toy
Stacking Ring Toy
Toy Top Set
Cannister Set
Metal Jingle Toy
Baby's First Basic Block Set
Play Scarves
Feeling Book by Todd Parr
Holiday Gift Guide for 11-12 months
Your little one is now becoming a toddler, ready to explore the world with confidence. Introduce toys that encourage imaginative play, such as play kitchens, tool sets, and building blocks. A safe and spacious play area can be their own little world of discovery.
Lovevery The Thinker Play Kit 11-12 months
Similar Individual Toys
Cloth Baby Doll
Wooden Peg Drop
Sliding Top Box
Wooden Switchboard
Wooden Pincher Grasp Puzzle
Animals Touch and Feel Book
Baby Gift Ideas that are not Toys
College Fund
Gift Cards
Experiences
Thinking Outside the Box – Why do kids always go for the cardboard box?  It definitely is intriguing.  I love the ideas from Artsy Craftsy Mom on fun-to-make crafts with leftover boxes.  It's also fun for the parent to use some of those creative talents – and did I mention this is about as inexpensive as it gets?
Local Stores for Baby Gifts
Bibs & Kids
Hangups
Kim Taylor & Co
Mcall's
Oh Baby by 119
Polliwogs
Rolly's Baby Boutique
Wynnie's Boutique
Remember, the most important aspect of gift-giving is to choose items that align with your baby's interests and developmental stage. Prioritize safety and quality, and don't be afraid to get creative with your selections. Happy holidays I hope this post gave you some good gift ideas for babies!
Past Posts You Might Also Want to Consider:
The Latest and Greatest in Baby Products
My Favorite Holiday Gift Personalized Gifts for Kids
Newborn Resources in the Triad
Fun Learning Activities for Babies & Toddlers